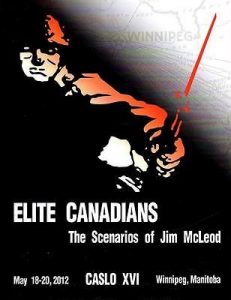 The Elite Canadians Pack was created out of two desires: To create a scenario pack to be sold at the Canadian ASL Open tournament in Winnipeg in 2012, and to honor the work and memory of one of the leading lights in the Canadian ASL community, Jim McLeod.
While brainstorming ideas for hosting the 2012 CASLO, the Winnipeg ASL Club hit on the idea of re-releasing the scenarios that Jim McLeod created for the Maple Leaf Route, an ASL newsletter that he was the creator, editor, and main contributor. During the re-playtesting of these scenarios, we discovered that there were a few scenarios that Jim had not yet published, and it was agreed to add these to the pack. The scenarios were laid out to give them a more modern look, existing errata on the Maple Leaf Route scenarios was incorporated, and the new scenarios playtested and polished.
The Winnipeg ASL Club is very proud of this scenario pack, and hope that we have done justice to the scenarios of our friend and mentor, Jim McLeod.